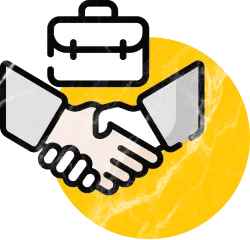 BLINK22 SEEKING
PARTNERS

WITH POTENTIAL

The innovative Blink22 Partnership Program is on the lookout for ambitious startups in need of technical teams - and we're offering our specialist capabilities and support at reduced prices in exchange for a share of equity in the business.

We want to help build killer products we really believe in - could your big idea be one of them?
Moving founders forward
We pride ourselves on the strong relationships we build with all of our clients - and with the Blink22 Partnership Program, we'll be taking those relationships to the next level.
We'll only partner with startups whose idea and ethos we can really buy into - and whose founders we truly believe in. It means we can trust you with our equity share and you can trust us to develop the best possible product.
And while we take care of the technical work, you can get on with establishing your business.
An expert team that shares your ambition
Your technical team can make or break your startup. As a Blink22 partner, you'll get a knowledgeable and supportive technical 'arm' to your business; a team of people who care about the project as much as you do - and who actually have skin in the game, just like you.
And because you'll also get a hefty discount on our world-class development services, you can invest more in other crucial areas - such as marketing, operations and accelerating the growth of your business - as you make your vision a reality.
The BLINK22 difference
With extensive experience developing mobile and web apps for growth-focused startups, Blink22 is the team you need in your corner as you build your vision.
Our design, product management and technical capabilities are second-to-none, meaning we can offer you end-to-end support and advice throughout the build and beyond.
STARTUP SUCCESS STORIES
We've helped countless founders bring their incredible products to life - but don't just take our world for it. Here's what our clients have to say about how we've supercharged their startups...
Making It
Happen
If you have a promising idea and like the sound of becoming a Blink22 partner, we'd love to hear from you. Simply fill out the application form below and we'll be in touch.